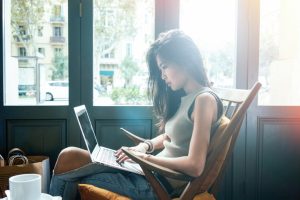 Writing is a great talent. And not just writing as in being able to assemble words into sentences and so on; this means writing as in being able to express an idea with the use of words on paper (or a word processor). Expressing an idea by writing in a way that sways or challenges people or piques their interest is a talent that not everyone has. So you should be thankful that you're a writer.
There are many types of writing and just as many ways to turn it into a job, contrary to what non-writers say that it's not a real job. Perhaps what goes into most people's minds when they think about writers is journalism, which is one of the most popular jobs for writers. You can also be a speechwriter or even a ghostwriter for someone famous or maybe just your boss. You can write for blogs too. Then, of course, there are those who write stories and novels and many more.
Whatever kind of writing you do, the one thing that remains constant is your need for a quiet space to do your writing in. Here are some ideas for building your own writing nook.
Spare room in your house
So why not just your bedroom then? Why do you need a spare room? Because you have to learn to separate your bedroom, and any other room for that matter, from your writing room. So that whenever you enter your writing room, that action alone is enough to get you in the mood to write. Make it a quiet room; or if you are one of those people who write better with music playing in the background, put a radio or other sound system in there. Even an iPod dock speaker system should be enough.
Build a separate room outside the house
This is the perfect idea for those without a spare room in the house. If you have enough space on your property, a small room is easy to build. Even your old shed is a space you can convert into this room. Get electricity in there using a live circuit tracer and other tools to ensure the supply is safe. Of course, you'll need lighting, your laptop, maybe a router, and something for your music.
Last piece of advice: don't put a TV or a game console in there or you'll never get anything done.
Working as a writer is one of the best jobs in the world because you get paid to do what you love doing. All you need a private space to start putting your words to paper.